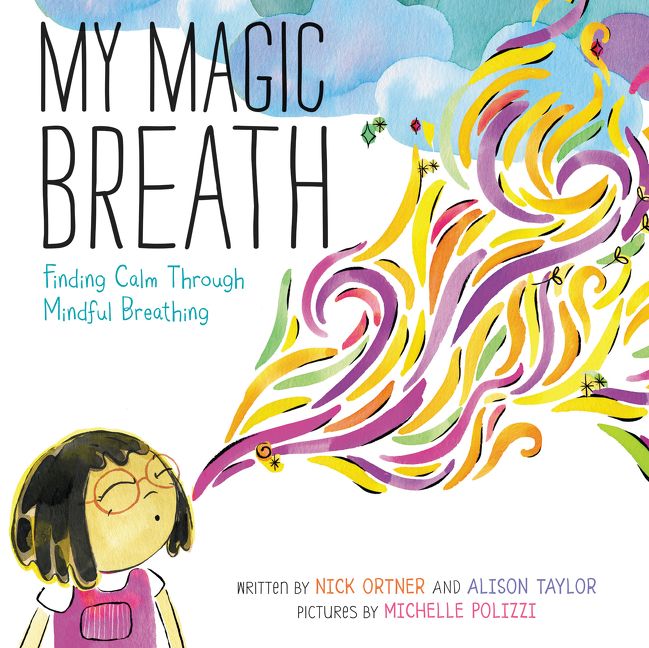 My Magic Breath: Finding Calm Through Mindful Breathing by Nick Ortner and Alison Taylor Illustrated by Michelle Polizzi
Disclaimer: I was provided a copy of this book to review by the publisher in exchange for an honest review.  All opinions are my own.
Review:
My Magic Breath; Finding Calm Through Mindful Breathing teaches children about breathing strategies to help combat negativity.  Magic breath is special because taking deep breaths can help children handle worried, nervous or sad thoughts.  The book continues by asking children to focus on things that make them smile and use their magic breath to blow out those happy thoughts directly on the page.  The new page reveals an almost full spread of colorful bright waves which evokes a sense of calm.  My Magic Breath continues to ask children to use breathing and a focus on happy thoughts to help combat sad ones.  Blue waves appear on the next page but are gradually blown away as children breathe deeply.  The sad blue waves are replaced with vivid and vibrant ones. At the end of the book, children are reminded to use their magic breath to not only help them through difficult moments but also to appreciate happy times!
I sponsor a second grade class for #classroombookaday.  Each day, I read a picture book aloud and ask students "What is the author trying to teach us?"   After reading My Magic Breath, one student shared that the book can help kids visualize good things so that they will stop thinking about bad things.  Another student also made a connection to a previous read aloud, Jabari Jumps by Gaia Cornwall.  In the story, Jabari is having second thoughts about jumping off the diving board.  Jabari's father tells him when he is scared, he takes a deep breath to help him get ready.   The student went on to say that deep breaths can help calm you down when you are nervous.
About the Book:
From New York Times bestselling author Nick Ortner comes a beautiful picture book that will help children discover calm through the magic of mindful breathing:
Do YOU have the magic breath?
Let's see…Take a deeeeeep breath in…and BLOW it out…
…and like magic, you can feel better just by breathing! Sometimes it's hard to feel happy. But with this interactive picture book, children breathe along as they learn how to make angry or sad thoughts disappear.
In a world that is sometimes too busy, with too many things going on, My Magic Breath will help steer children into a serene space of mindfulness, self-awareness, and balance.